Our team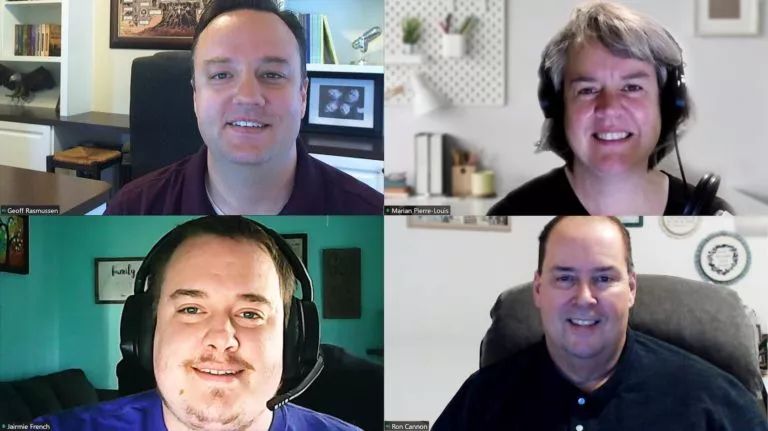 Founder and host: Geoff Rasmussen
Geoffrey D. Rasmussen is the father of four budding genealogists. He graduated with a degree in Genealogy and Family History from Brigham Young University and has served as director and vice-president of the Utah Genealogical Association. He is the founder and host of the Legacy Family Tree webinar series and develops the Legacy Family Tree genealogy software. Geoff enjoys playing the piano, organ, cello, basketball, and bowling. His favorite places are cemeteries, the ocean, and hanging out with other genealogists. He met and proposed to his wife in a Family History Center. He is the author of Kindred Voices: Listening for our Ancestors, and the popular books Legacy Family Tree, Unlocked! and Digital Imaging Essentials.
Co-host: Marian Pierre-Louis
Marian Pierre-Louis is a genealogy professional who specializes in educational outreach through webinars, internet broadcasts and video. Her areas of expertise include house history research, southern New England research, and solving brick walls. Since the rise in interest of genetic genealogy, Marian has become addicted to using DNA to help solve genealogy mysteries. Marian is the host of the Genealogy Professional Podcast. She has also produced and hosted 100 episodes of Fieldstone Common, a history podcast. Marian is the Online Education Producer for Legacy Family Tree Webinars, and once a month you'll find her as the evening host of Legacy Family Tree Webinars.
Support and customer service: Ron Cannon and Jairmie D. French
Ron Cannon has been working in the computer field for more than 30 years, and in genealogy customer support for the last 12. Happily married for 35 years now, he enjoys spending his free time with family and friends.
Jairmie D. French is the father of two boys. He graduated with a Bachelor's degree in Information Resource Technology from Emporia State University. He has worked in Support at Legacy for the past 8 years. In his free time Jairmie enjoys building and troubleshooting computers as well as playing video games with his boys.
The stars of the show: Our speakers
Legacy Family Tree Webinars boasts a world-class team of 323 speakers from 23 countries. View all our speakers.